I have to blog about these kinds of days as they happen. Otherwise, MORE days will happen....and I'll miss my chance to share. Thus, this is how it occurs that it is 11:30 and I should be going to sleep instead of blogging. But hey, we're taking the day off of school tomorrow, so I'll survive :)
We spent a beautiful and calm Thanksgiving Day here at home (we'll be eating with Joel's family this Saturday) I think it was one of the first Thanksgivings that our family has just been 'home', and I must say, I really enjoyed it. It was calm, quiet, and very relaxing. Here are some highlights from our day.
The morning started out at 7:15, with me still in my pj's, mixing up a batch of sweet rolls. I've hunted and hunted for years now for the 'perfect' sweet roll recipe, and was always disappointed. But leave it up to 'Our Best Bites' to come up with the best one yet! These sweet rolls were incredible. Ooey and Gooeyness abounded! :) They take a little time, but actually a little quicker than some other recipes I've tried. Let's just say that, our family, in addition to my Grandfather, who joined us for breakfast, had NO problem plowing through a pan of these. If you're interested,
here
is the recipe. We made an extra batch and walked some down to our two neighbor ladies. Since we've moved here, these neighbors have knitted a homemade blanket for each one of my children---definitely a keepsake they'll have for a long time! They are always so happy to see us when we drop in to say hi, and call the kids their 'ray of sunshine'. Such sweet ladies! We were happy to share our treats today :)
If you look closely, you'll notice that my older Indian is missing his front tooth---he pulled it yesterday. So far, both of my older kids LIKE pulling their own teeth---two scores for me!!!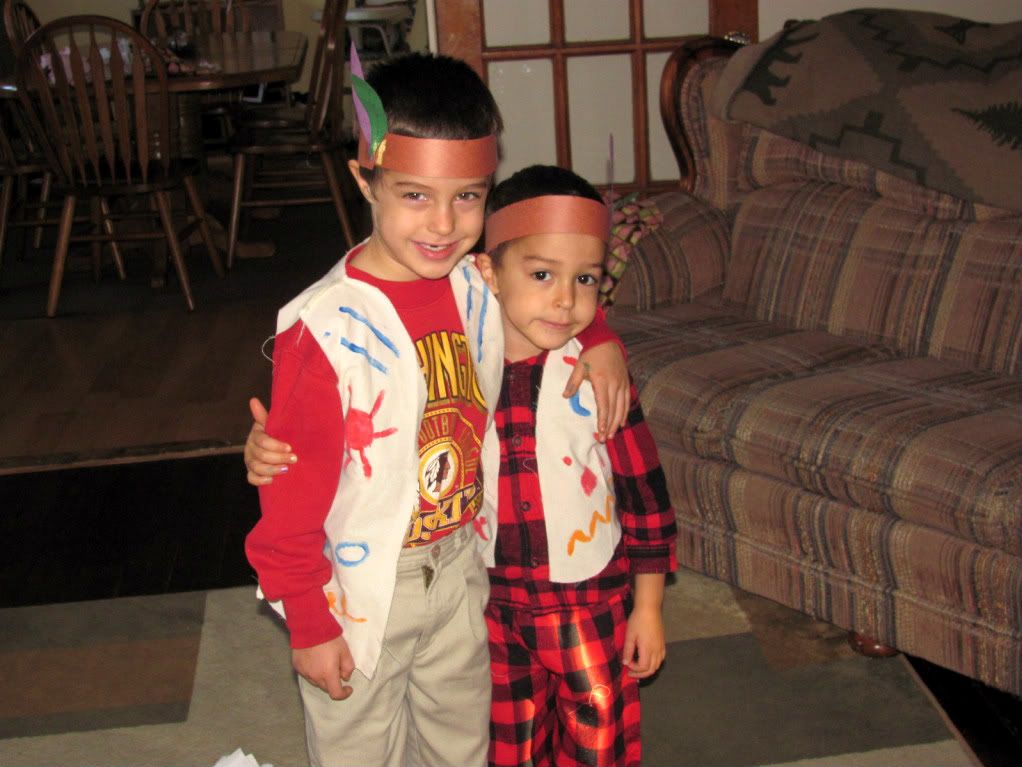 By the way, while I fixed the meal, my kids listened to Focus on the Family's Radio Theatre '
Squanto
'. This is a great presentation of the story, which we highly recommend!
At the last minute, I pulled out an old tablecloth of my grandmothers. Not exactly my style, but you need something special on Thanksgiving, right? Here are the boys waiting...well....not so patiently ;)
The kids were highly amused that I bought 'a Veggie Tales guy!!' from Food Lion. They had to give him a face before I chopped him up for dinner.
Since we're eating with Joel's family on Saturday (traditional meal), I thought I'd make this one a little 'non-traditional' Except for the roasted chicken, nothing else was quite 'normal'. We had those stuffed potato boats, butternut squash gratin, Ruby Tuesday style cheedar-garlic biscuits, and a new sweet potato recipe. It was all quite satisfying and good, and we decided that our 'non-traditional' meal might have to become a 'tradition' :) (Now you want to go watch Fiddler on the Roof, right?)
Two of the loves of my life, washing all the nasty dishes for me.
Yes, Eli added war paint as the day went along.
The after-dinner 'curl up in the chair with Dad and read' time.
We were all quite happy to see Aunt Kristin later in the day. She joined us for some movies and dessert.
And this final picture was taken last night---I just thought it was too sweet not to post :)
After losing my Mom last year, I realize that circumstances and things that we take for granted can change in an instant. Today, I am SO thankful for my family---my husband, my children, our baby on the way. But most of all, I am so thankful for the One Who will never change. My family is a gift from Him---and today, I say 'Thank-You!'